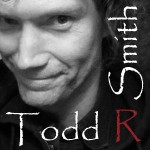 e-mail:todd @ toddrsmith.com~415~377~7130~

Hi – I'm Todd R. Smith
I'm celebrating over 27 years in the entertainment industry. I was hired for my first voice over jobs during High School and have continued to act ever since.  In college, I became a member of  Burpee's Seedy Theatrical Company – the nation's oldest collegiate improvisational comedy group.
I voiced characters after college for ensemble pieces that played at the Film Arts Festival in San Francisco, the Mill Valley Film Festival in Marin County, California, and on PBS National Television. I've worked in the film business behind the camera – first in live-action and then in VFX for films. I've appeared as non-speaking extras in 'Hugo', 'The Curious Case of Benjamin Button', 'Zodiac', 'Invincible', and 'The Last Samurai'.  I've enjoyed it all. I've seen a lot of changes in the business.
Now  I return to my love for the human voice – helping you – connect to your audience – in a believable and genuine manner that builds… you guessed it – Trust, in the ears of your audience.
Here are some of the over 60 films on which I've worked live-action and VFX:
Hugo

Captain

America

Titanic

Alice 

in

Wonderland

The

Other

Guys

The Curious Case of

Benjamin Button

The

Golden

Compass

Zodi

a

c

Invincible

The

Last Samurai

Down With

Love

The

Ring

The

Majestic

X

-Men
The

Green

Mile
The

Truman Show

Mighty

Joe

Young

Kundun

Titanic

Star Trek

: First Contact

Casino

The

Jungle

Book
Bram Stoker's

Dracula

Batman

Returns
As a Real Person Voice Actor I don't pretend to be a Jack of All Voices.   I do one thing well – Sincere & Believable with lots of flavors.  My delivery can be described as  – Direct – Honest  – Warm – Friendly – Subtly Emotional – Dusty – Relaxed – Conversational – Guy Next Door – Confident – Professional – All-American – Natural – Mature – Intelligent – Fresh – Approachable – Articulate – Authoritative – Dependable – Gentle – Fun – Authentic – Trustworthy – Comforting – Casual – Clear – Experienced – Informative – Reliable – Smart – Refreshing – Upbeat – Sexy – Cool – Genuine – Happy – Midwestern – Strong – Interesting – Educated – Corporate – Energetic – Engaging – Charismatic – Smooth – Pure – and Down to Earth –   Typical age range: 30's, 40's, 50's, and 60's.  (30 something, 40 something, 50 something, 60 something)  Your satisfaction is my top priority.  I'll do everything possible to make you happy again and again!

Let me know how I can help you.   – Todd R. Smith
email:todd @ toddrsmith.com~415~377~7130~