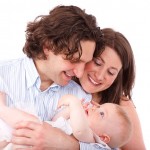 If just one parent or just the other parent does all the waking up with the baby work in the middle of the night – they can burn out.
If, however, they trade off – either back and forth in the same night or each is taking an alternating day – then it spreads the load, and you get a bit more of the sleep you need as a parent to be a good parent.
The plan may be different for each family.
Test out options and see what works best for your family.
The other benefit of this sharing is that your baby will get used to each of you putting them to sleep. Plus one parent isn't straddled with always having to be the one, and the other parent doesn't feel left out.
Store breast milk in bottles for use by your partner:
We stored pumped breast milk in baby bottles in the refrigerator. This allowed me to easily feed my daughter in the middle of the night to give my wife a break and let her sleep sometimes. I used and recommend the ingenious baby bottle by Avent.
It's got a unique nipple shape that works well when you're switching back and forth between breastfeeding and bottle feeding.
It's easy to use and clean with a wide mouth opening and comfortable to hold.
You'll pay a little more for it than generic old fashioned baby bottles,  but I believe it's worth it.
Highly Recommended Breast Pumps:
(Amazon Affiliate links like these help pay for the free content on my sites. When you purchase from Amazon within 24 hours of clicking on an affiliate link Amazon gives me a small commission. Using the link doesn't affect the price you pay. Thanks for your support!)
Crying and waking is not always about being hungry:
If you're your baby wakes up frequently – and painfully – there may be an underlying medical condition. Talk to your baby's physician.
Gastroesophageal reflux (GER) is a common cause where stomach acids move up into the esophagus which causes heartburn like pain. 
Allergies to formula or dairy products from a breastfeeding mother's diet is another common cause of painful waking in the night.
Gas bubbles can also cause pain for a baby. Check with your baby's physician.